When you first reach the Bookings Page you will see the booking overview calendar. The calendar will display the current month in the month view format.

From this screen you can view current bookings or blackout periods, edit existing bookings or blackout dates, or create new bookings or blackout dates.
The first usable item on the screen is the filter. This article will give you all the information on how to utilize the filter.
Once you have finished using the filter you can select the calendar view from 3 available options: Month, Week, Schedule.
Month: Displays a complete month.
Week: Displays a full week.
Schedule: Scroll through the full week where each day is broken down hourly.
We have added functionality that will allow you greater control over the calendar.
A drop-down named Calendars has been added above the calendar. Once expanded you can choose to include or omit items from the calendar. You also have the ability to add an external calendar based on resource or specific product.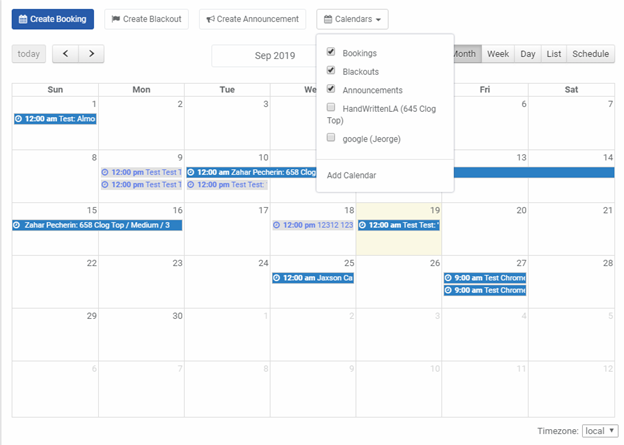 For a guide on how to create bookings review this article.
You can find more info about blackout dates in this article.
If you wish to edit existing bookings or blackout periods you can review this article.