What is Capacity?
Capacity in BTA represents the maximum number of items that can be booked at any given time slot. If the product has capacity then a date and/or time is available to be booked.  If not, then the date and/or time slot is greyed out and unable to be selected. For example, capacity for classes represents the number of students that can be booked in a single instance (date) of a class.
How does Capacity work?
When a booking is taken for a given date and/or time, the available capacity for that date/time is reduced. E.g. If you have a capacity of 10 and have 2 bookings on Jan 1, then the remaining capacity for Jan 1 is 8. When the booking end date has passed, the item or service is once again available.
Capacity Types
BookThatApp supports setting capacity at the product, variant or resource level. This is done in the BTA product page when you configure the product.
Product Based Capacity
If you set your capacity to be based on product, then all bookings for that product (regardless of the variant chosen) count towards capacity.
E.g. In the screen shot below, we are booking Barber appointments. If the Barber has a booking for a Hair Cut at 10:00 AM then they cannot take another booking at the same time because the capacity is set to 1. If was set to 2, then the barber would be able to take 1 more booking at that time.

Variant Based Capacity
If your variants each have their own capacity then choose Variant Based capacity which counts bookings at the variant level when determining if it is available.
In the example below, we are renting Dresses. The dresses come in three sizes so the "Size" option is used. BookThatApp allows you to enter the capacity for each of the options.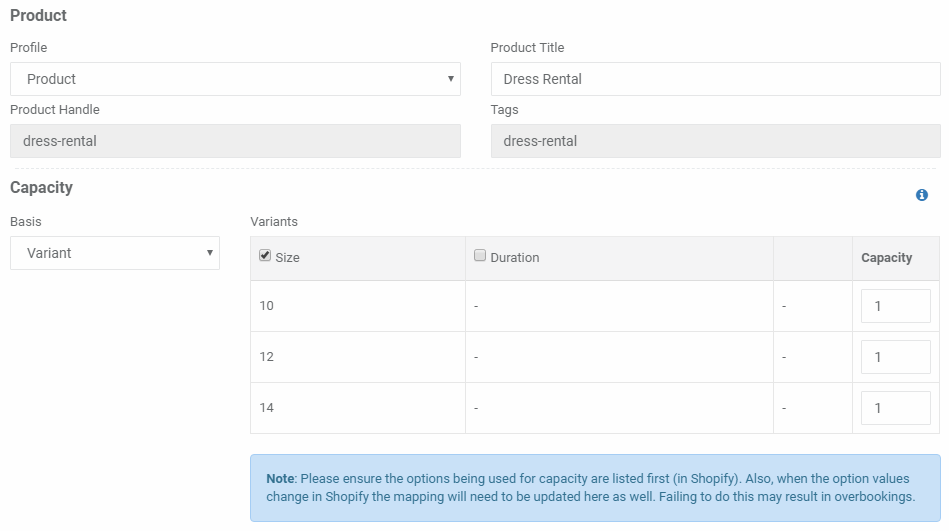 When the size 12 dress is booked, no one else will be able to choose those dates since there is only 1 dress in size 12, however the size 10 and 14 variants will still show as available.
Please note that the variant option(s) used for capacity in BTA must be ordered first in Shopify.
Resource Based Capacity
Resource based capacity allows you to limit the number of bookings based on resources assigned to products.
Examples of resources would include staff with specialized skills (e.g. an instructor), rooms or equipment.
For example, you offer hourly rentals of stand up paddle boards and also run classes at 10 am daily. The store uses the same boards so we need a way to ensure there are enough boards available for the class students while still allowing customers to book any boards not being used.
To start you need to create the Paddle Board resource in BookThatApp using the 'Equipment' type. For equipment resources you enter how many physical units (inventory) you have available. For the purposes of the example assume there are 10 boards.
Now you would set up the 2 products to use resource based capacity and in the resources section assign the Paddle Board resource.
The set up is now complete. If you go to the hourly board rental product page and choose 10:00 AM, the maximum quantity that can be entered will take into account how many people have signed up for the class that day. So if the class has 5 students signed up it will only allow you to rent 5 boards. However, if the customer changes the time to 11 AM it would allow you to enter a quantity of 10.
Using Resources with Product or Variant Capacity Type Selected
If you assign resources to a product and use either Product or Variant capacity type:
Bookings for other products that share the resource will count towards the availability count.
When a new booking is created it will assign the resource to it automatically. If there are more than 1 resource then it chooses one randomly.