This article will walk you through the process of configuring products in BookThatApp (BTA) that represent appointments and/or services. With this configuration the customer will be able to select from time slots that are based off of your opening hours and product duration.
In this tutorial, we'll take you through how to set up Booking Form 3 for your Shopify store.
EXAMPLE: https://bookthatapp-demo.com/products/copy-of-coaching-tutoring
(Note: To take no charge appointments, please see this tutorial.)
Shopify Product Page
1. Create a Shopify product to represent your Appointment/Service. ie. Consultation
2. Set the inventory to Do Not Track.
3. Add variants if applicable. ie. Basic Consultation, Extended Consultation
Do not enter the dates or times of the appointment as variants because the schedule will be based off of your stores opening hours. You can view more on adding and editing variants in this article from Shopify.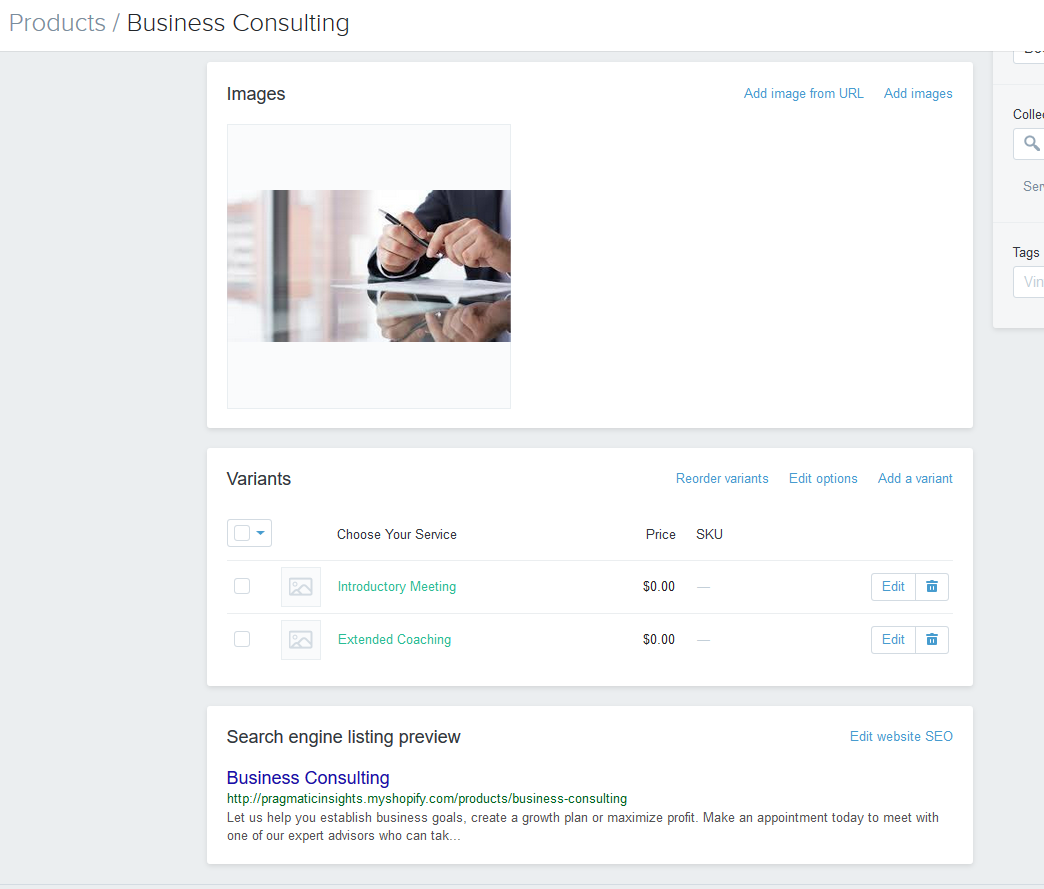 BTA Product Page
After you have saved the product in Shopify select BookThatApp Configuration from the More actions menu at the top of the page:

This will import the product into BTA and take you to the BTA product configuration page.
If you have previously set up products in BTA you will be prompted to copy the settings from one of them at this time. Go ahead and choose an existing Event product if you have set one up otherwise follow these steps:
1. On the BTA Install page install Booking Form 3 (Appointment), and then follow the rest of the install instructions.
2. Import your product into BTA.
3. Choose "Appointment" as the Profile.
4. Choose to base capacity on Product, Variant, or Resource. For most appointments it will be product based. If you want multiple products to share availability you will base it on Resource.
5. Enter the Duration for the appointment or each variant. In this case we have based duration off of the variants since each variant represents a different length of time.
6. Add lead or lag time (if applicable)
7. Select to hide any variants you do not want the booking calendar to appear on.
8. Add a Location (if applicable). This will let you include the location's address in reminder emails.
9. Add a cutoff date or future date (if applicable)
10. If desired, choose a set of colors for the appointment. This allows you to differentiate appointments by color on the Booking Overview Calendar.
11. Hit Save.
BTA Opening Hours Page
1. To access the Opening Hours section select Configuration-> Opening hours.
2. Change or modify the opening hours for your store.
3. Hit Save.
Front-End Time Slots
The standard function of the appointment booking form is to display time slots based on your opening hours and duration settings.
If you would instead like to have variable/sliding time slots please review this article.