This article will walk you through the process of configuring products in BookThatApp (BTA) that represent tours. You will specify a schedule for the tour and the customer will be able to select a corresponding date and time.
In this tutorial, we'll take you through how to set up Booking Forms 4 and 5 for your Shopify store.
EXAMPLE: https://pragmaticinsights.myshopify.com/products/wine-tour
Shopify Product Page
1. Create a product to represent your tour. In this example, it is a wine tour.
2. Set up an Shopify variants, if required. In this example we are selling a single ticket as well as a group ticket so we have two variants.
If your booking scenario requires that a booking has a minimum party size of 2 you must create a variant to represent Party Size. The values for Party Size will start at your minimum requirement and end at the maximum capacity for the tour.
3. Enter the price for each variant and set the inventory to Do Not Track.
Do not enter the dates or times of the tour as variants because you will create a schedule in the app.You can view more on adding and editing variants in this article from Shopify.
BookThatApp (BTA) Product Page
1. On the BTA Install page, install Booking Form 4 (Date and Time picker) or Booking Form 5 (Upcoming Events) and then follow the rest of the install instructions.
2. Import your product into BTA
3. Choose "Tour/Activity" as the Profile
4. Enter the capacity of the tour (max number of people permitted per time slot)
5. Choose to base capacity on Product, Variant, or Resource. In this example, we want the tour to be based on product as we either want to fill up a van with 6 individual bookings OR a group booking of 6.
If you are using the variant for Party Size you will also want to base the capacity off of the product.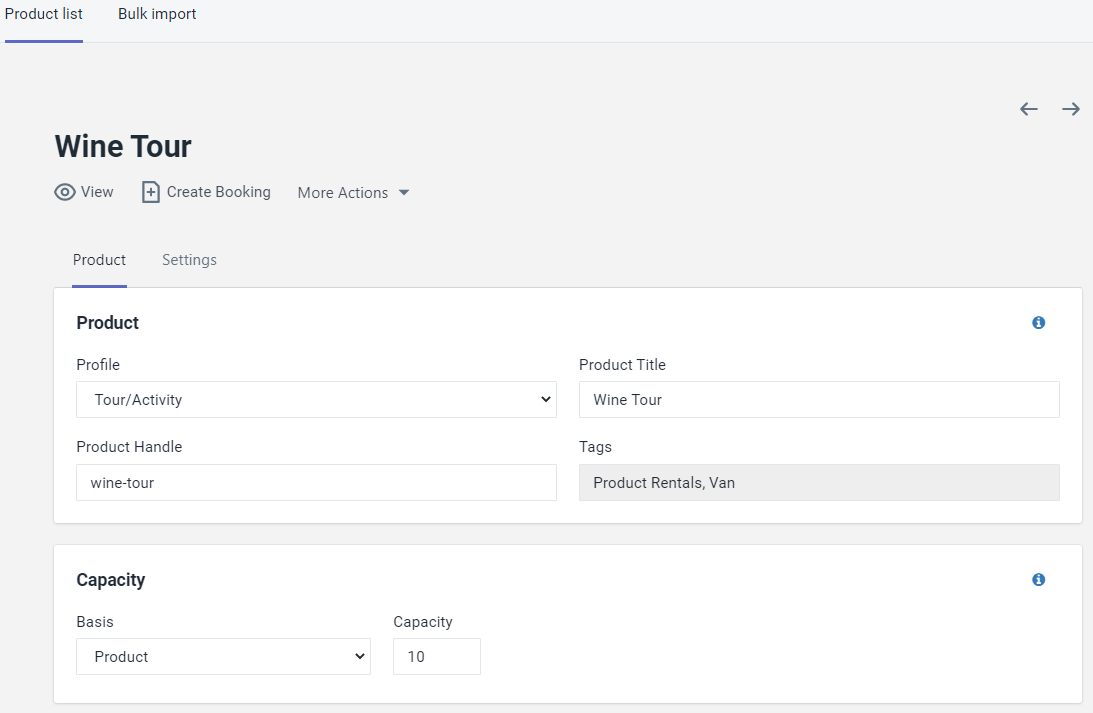 6. Enter the Duration for the tour or each variant.
7. Select to hide any variants you do not want the booking calendar to appear on.
8. Set the Units value equal to the amount of attendees for each variant. In this case, a single ticket has '1' as the single ticket purchase represents a booking for 1 person. A group booking is for 6 people and the Units value is set to '6' to reflect that. This means that if a single booking is taken the total capacity will reduce by 1. If a group booking is taken the total capacity will reduce by 6.
9. Add a Location (if applicable). This will let you schedule by location and include the location's address in reminder emails.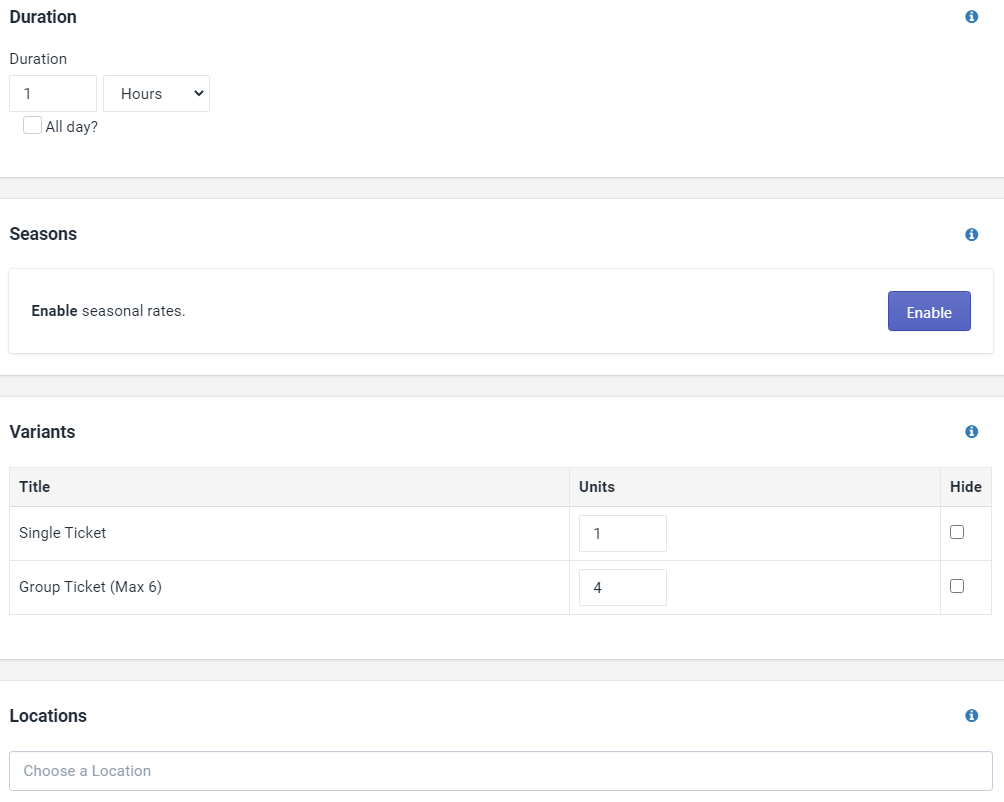 10. Add a cutoff date or future date (if applicable)
11. If desired, choose a set of colours for the activity. This allows you to differentiate tours by colour on the Booking Overview Calendar.
12. In the field under Sign Up List enter in email address where you want an enrollment report to be sent.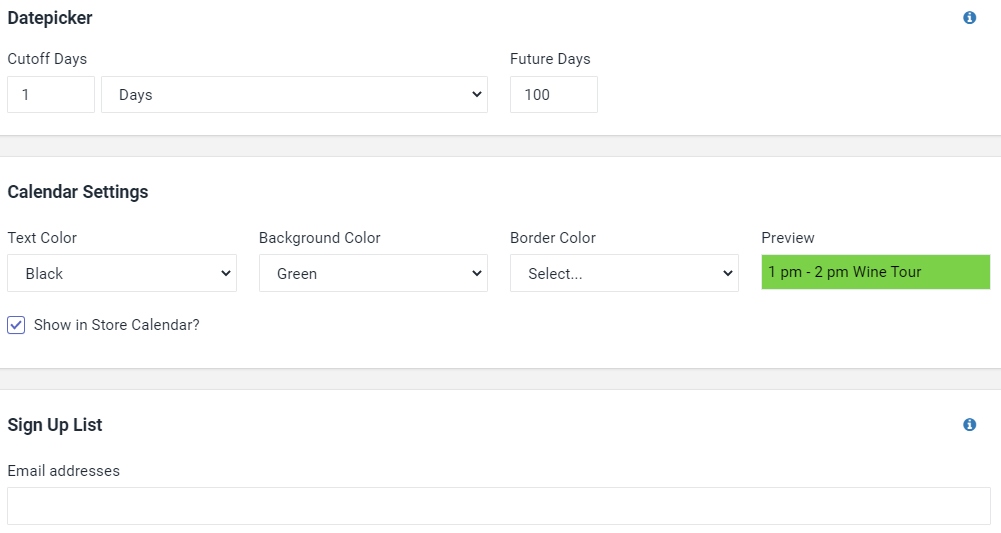 13. Create the schedule for your tour:
One off Dates: Use this option if your dates are random (ie. Jan 1, Feb 5, Mar 12)
Repeat: Use this option if the class recurs on a regular basis. (ie. Every Monday at 6pm)
14. Hit Save.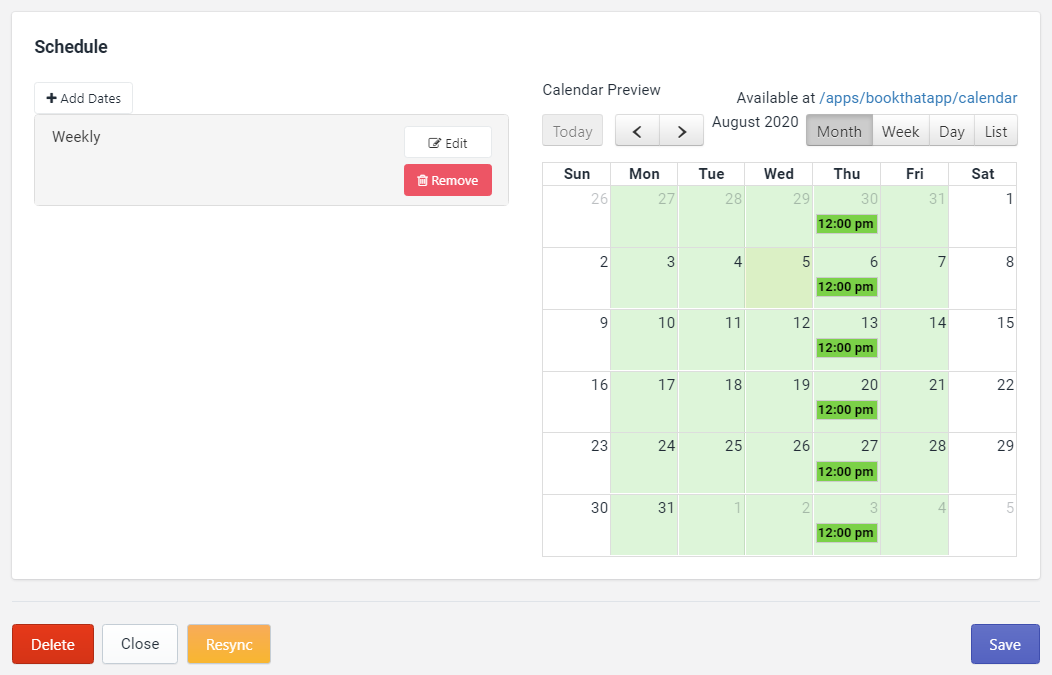 15. Add a link to your navigation to show the Calendar Page.