By default all emails sent from the app will apply the sent address of notifications@bookthatapp.com. In order to provide your customers with a more personalized experience you can use your own SMTP server so that your address appears in the sent field.
BYO SMTP Server stands for Bring Your Own Simple Mail Transfer Protocol server.
Setting up your own SMTP Server
Here are the steps to get started using your own SMTP server:
In the app select Configuration/ Advanced settings.
Select the SMTP tab.
Select the Enable button.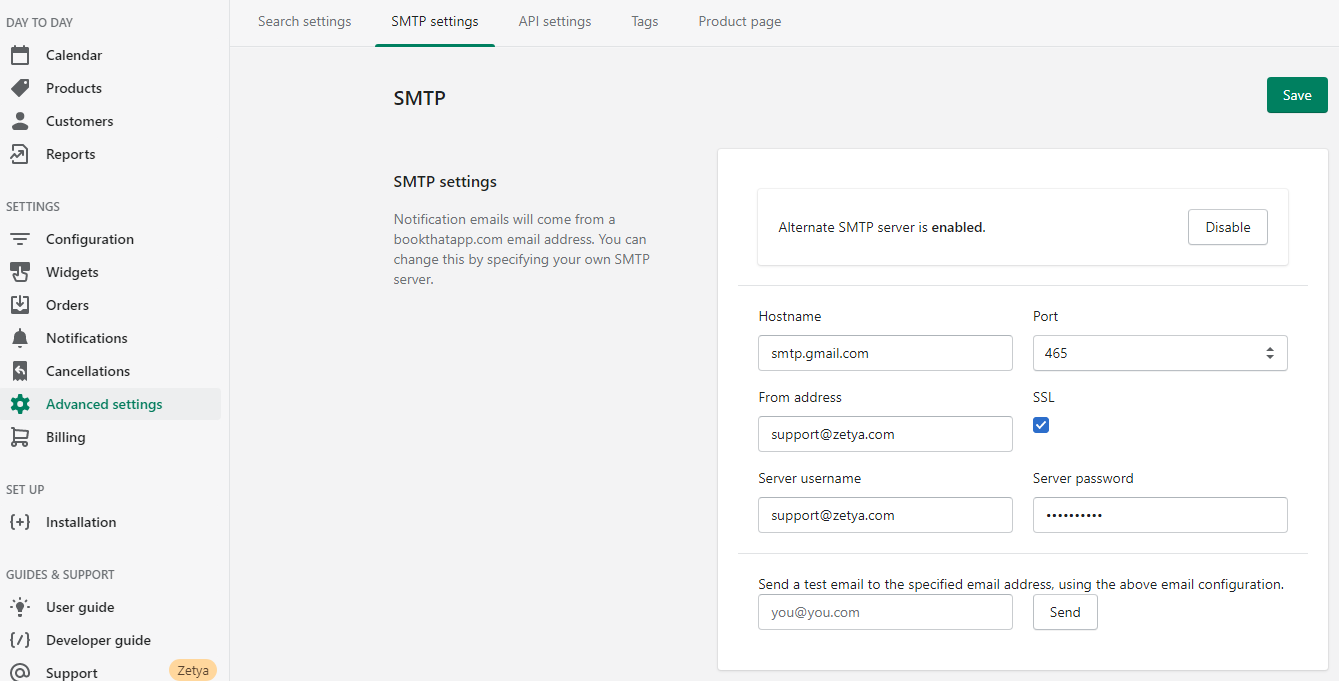 See below for common mail server settings.
In the From Address field enter the text that you want the customer to see in the sender field of the email.
Enter the credentials for connecting with your SMTP server (username and password). Please contact your SMTP server provider for you your server user name or password.
Testing your settings
You can test out sending an email using the form at the bottom:

Settings for common SMTP providers
| | | |
| --- | --- | --- |
| Provider | Hostname | Port |
| GMail | smtp.gmail.com | 465 |
| Sendgrid | smtp.sendgrid.net | 465 |
Google Two-Factor Authentication
In order to use the SMTP feature with a Gmail account you will need to enable 2-step verification and use an app-specific password.
Choose to generate a 'Mail' password and set the device as 'Custom' (We used 'Bookthatapp')

Enter the password you just generated in the Server password field instead of the normal Gmail account password.
Other help resources
For information on how to access, modify, and utilize email and SMS templates please take a look at https://support.zetya.com/hc/en-us/articles/360004413216-Creating-and-Scheduling-Reminder-Emails