In order to assist the tracking of your assets you can apply product and booking tags in the app. This article will walk you through applying and using both types of tags.
Booking Tags
Designed to help in asset tracking, you can apply a tag to an existing booking and the Runsheet can be used to easily figure out where your products are in the booking cycle.
Manually Apply Booking Tags
Here is a scenario of how one of our premium app subscribers enhanced their logistic capabilities:
After receiving an order in Shopify you will want to access it.
Enter relevant tags in the lower right hand corner. This customer uses things like:

Booking start date
Booking end date
Critical information like express delivery or customer pick-up

In the app go to Settings -> Tags tab. From here you can color code your tags to make it even easier to recognize the product status for reporting.
Once the item has been returned a 'Returned' Tag can be added to the Shopify order so that the status is updated properly for future Runsheet reports.
Automatically Apply Booking Tags
You may want to automatically apply certain booking tags to orders as they arrive. To do so you will follow these steps:
Access Settings -> Order Processing tab in the app.
In the Order Tags field enter in the tags that you would like applied. You can enter multiple tags by separating them with a comma.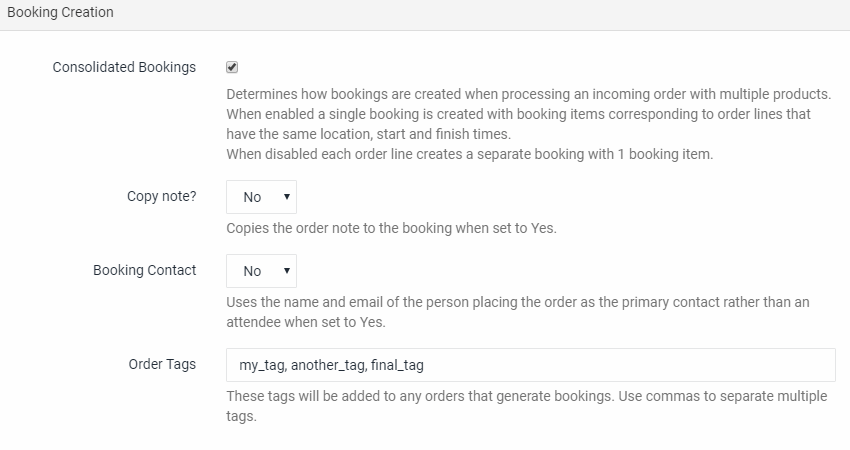 Reporting
As a premium app subscriber, the customer from our initial example has also made a custom report via the Reports link, so they can include tags as a data set!

Product Tags
Product tags vary from booking tags because these are tags associated with a specific product, not a booking. You apply your product tags in the Shopify admin product page. Here are the 2 methods of using those product tags in the app:
The first method is with the availability search available for Premium App Subscribers. You can read all about setting up the availability search below.
https://support.zetya.com/hc/en-us/articles/360001316076-Availability-Search
The second method of using product tags is with our Events Calendar. A tag filter can be enabled so that your customers can search based on product tags. You will also need to add some text, or create a key above the calendar, so that your customers know what tags are available.
The changes to the Events Calendar can be made in the Calendar template file, found by selecting Templates from the Configuration category of the app admin. These are coding changes that fall outside our no-charge support. If you would like a quote for us to implement this customization please feel free to contact us.