This article will provide details on how to take bonds. A bond will allow you to add an additional product to the cart that has a set fee. Depending on your store's policy, you can refund the bond after the booking ends. The bond feature is only available when using booking widgets and available for Premium and up app subscribers.
Note: a bond adds an additional amount to the product cost, in the form of an additional product, that can be refunded after the booking ends. In contrast, a deposit allows you to charge a partial amount upfront and the remainder at the time of booking. If you need to create a deposit instead of a bond select the following link.
https://support.zetya.com/hc/en-us/articles/4514738224271-Deposits
Enabling a Security Bond
This section of the article will focus on how to enable the bond feature. This feature is only available to Premium and higher app subscribers.
Note: this feature is only compatible with our widgets. If you are using a classic booking form you will need to change to a widget.
1. In the app, access Configuration-> Order processing.
2. Select the Deposit/Security Bond tab.
3. Select the Enable button found in the Security Bond section of the page.
4. You can now name the bond product and specify the fixed price of the product.
5. Select Save.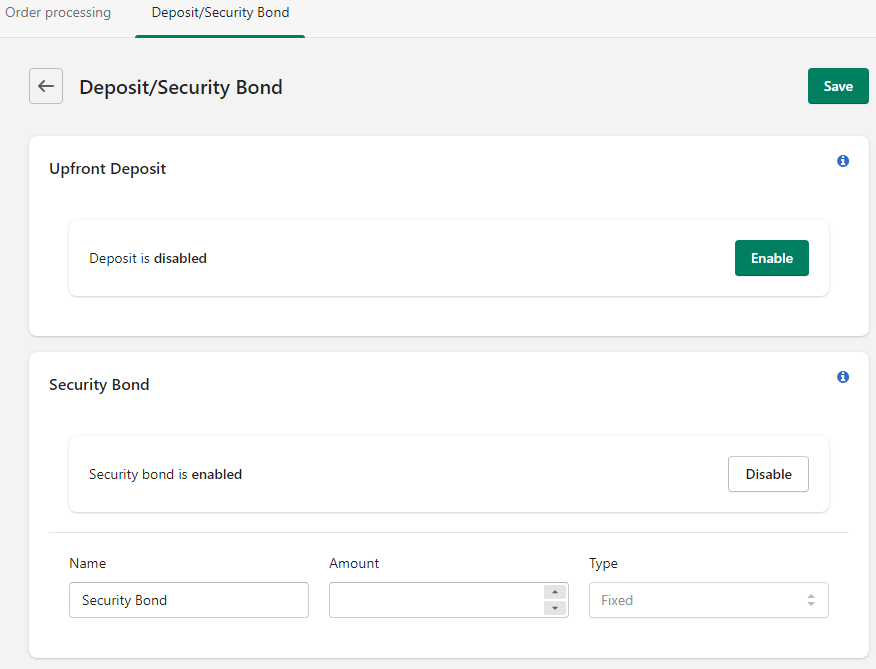 What Happens Next?
When a booking product is added to the cart a bond product will also be added to the cart. When the booking ends you are able to refund the cost of the bond by accessing the Shopify order.