The Count days advanced setting provides greater control over how the number of days is calculated when the customer is allowed to select a date range. This article will provide details on how this feature can be used to optimize the booking process.
Prerequisites to use this feature:
The product is configured to allow the customer to select a start and end date.
The rental widget is configured to allow the customer to select a start and end date.
In the Order Processing section of the app, the Date range updates quantity? setting is set to Yes.
Still need to get set up to accommodate the above? Please see the following for details -
https://support.zetya.com/hc/en-us/articles/360001602196-Product-Rental-Widget
Real-world Application of This Feature
You run a store where you rent products and you allow the customer to select a date range of their choosing for their booking. Your business is closed on the weekends so you would like to prevent the customer from returning the product on Saturday and Sunday. Since you are not allowing bookings to end over the weekend you decide not to charge your customers for those 2 days of the week.
If the above booking scenario is what you are trying to achieve please continue following this guide.
Updating the Count Days Setting
Here you will find the steps to update the Count days setting.
1. In the app, select Configuration-> Advanced settings.
2. You will see the setting for Count days.

The default value for this setting is Calendar. This setting allows every day that is included in the date range to count towards the booking duration.
The other option for the Count days setting is Weekdays. The Weekdays setting will prevent the customer from selecting a Saturday or Sunday as an end date and these dates will not be considered in determining the number of days that are selected.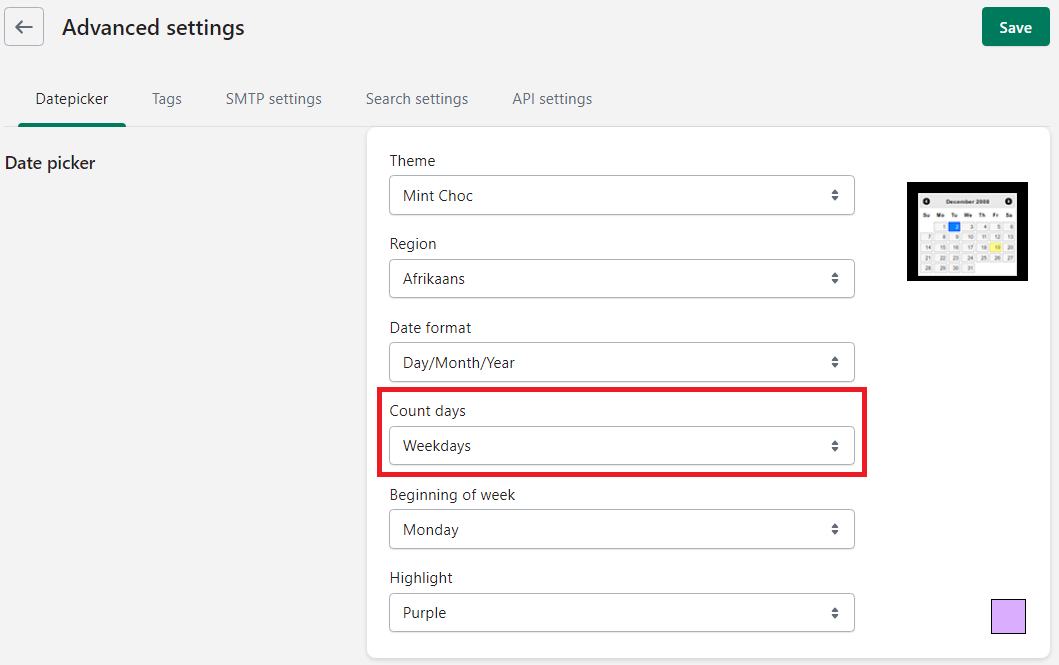 That's it! You now are ready to control how the number of days are calculated for your bookings.